Car Polishing Your Vehicle Exterior
Exterior Car Cleaning, Machine Buffing
Our Exterior Valeting & Car Polishing, for cars & vans is a fantastic way to get your vehicle looking great, we will wash & Polish your pride and joy giving you a fantastic looking shine.
Your vehicle will be washed & wheels cleaned & polished to a high standard.
Once the washing & drying process has been completed we will then remove any tar from your vehicle bodywork, Tar Removal will take place from the exterior of your vehicle and faces of your alloys or trims.
We then polish the vehicle either by hand or you can choose to have a Machine Polish. This will deepen the gloss shine, making your exterior shine like never before. Car Polishing Buffing, T Cut & Polishing by hand or Machine will add a shine to your vehicle, it remove microns of clear coat from your lacquer so dull or oxidized paintwork gets a new lease of life.
Car Polishing Buffing
You can add a Wax, Glass Sealants or Alloy Wheel Sealants to Exterior Valeting as an extra surcharge, we can remove the bodywork Contamination whilst at your premises. Please note we do not recommend having your vehicle Waxed without first removing bodywork contamination such as tar spotting.
If you are serious about the exterior of your vehicle then the removal of the contamination from your body work is a must.
We will use a synthetic Clay to remove the surface contamination from your Bodywork & Alloys.
We will then remove the ferrous metal particles which can eat into your cars paintwork and cause rust spots.
The car will then be washed using safe washing techniques and plush towel dried before car polishing by machine which will remove fine scratches in your clear coat.
Please ask for details.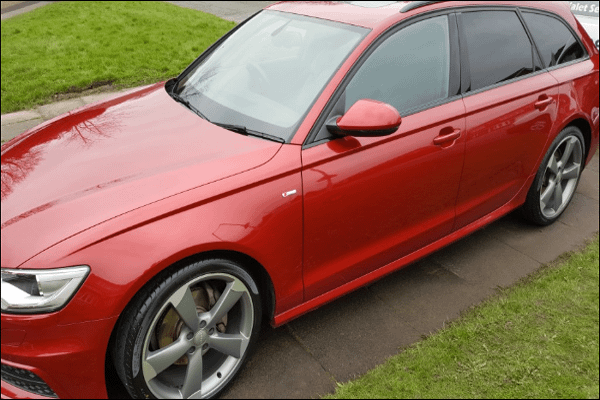 If you are considering having our Exterior Car Cleaning, Valeting option, then take a look at our New Car Protection Detail the Enhancement Detail or The Full Paint Correction, both come with ceramic coatings giving lasting protection.
Car polishing is a must if you plan on selling your vehicle, the car polish will enhance the shine & deepen the gloss finish and make it look like its never looked before. We offer Mobile Valeting on most services we offer.
We  run a fair Car Cleaning Prices policy offering bespoke prices to clients.
Contact Us
G & G Mobile, Specialist Valeting: 

07825561598