Graphic Vinyl Removal
Graphic Vinyl Removal – Decal Removal From Cars & Vans
Vinyl Removal, Decals or Graphics can be removed from cars, vans & fleet Vehicles, whether they are fully wrapped, single lettering, layered or even partially wrapped.
G & G Mobile Valeting will remove your vinyl graphics from your fleet vans or cars.
Vehicle graphics can protect your cars & vans from stone chips & other contamination from airborne contaminants & light scratches especially if the vehicle is wrapped from new.
Decal Removal
Removing decals from your vehicle paintwork can be painstaking, especially if a low quality vinyl has been used or the vinyl has been on for a number of years.
Over time the vinyl graphic will deteriorate due to ageing & the effects of ultra violet sunlight, wind & rain.
The UV will do most of the damage which can make the vinyl material very brittle which makes it much more time consuming to remove.
Once the vinyl removal has taken place there will be the glue residue from the vinyl which will need removing, the glue itself can take some time to remove from your paintwork.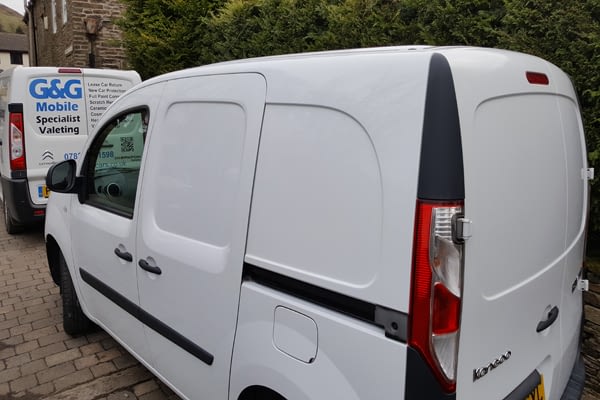 Graphic Removal
Ghosting
Vinyl Removal lettering or small decals usually leave some light shadows or ghosting on your paintwork once the lettering has been removed. This is due to the UV Sunlight dulling or oxidizing your paintwork.
This ghosting or light shadow can be removed by machine polishing the area effected, this will be an extra surcharge as the ghosting may need a 2 or 3 stage machine polish to remove light shadow effect.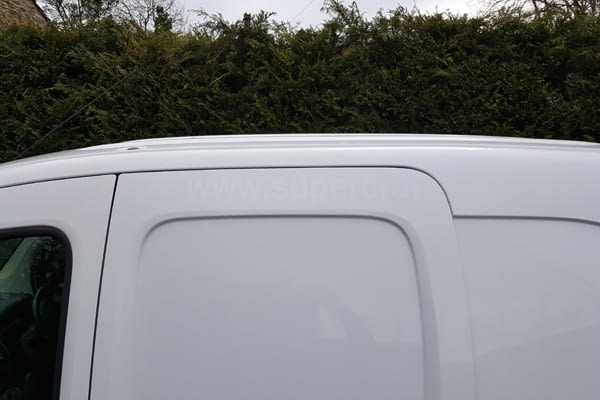 Vinyl Removal
The image on the Renault Van above shows where the previous lettering was.
This is ghosting or light shadowing which was caused by the UV Sunlight, it will cause fading to your vehicles paintwork & also the vinyl lettering or wrap.
Ghosting or shadowing can be removed by machine polishing, please tell us you require the ghosting removing so we can allow the extra time it takes to remove the shadowing from your paintwork.