Mobile Odour Removal Service
Mobile Valeting Service for car & van interiors
We offer Bad Smell removal from Cars & Vans, Caravan or Motorhome or even your home.
This treatment is fantastic at removing bad smells & odours & will disinfect the treated area of the vehicle by working its way into all fabrics, carpets, matts, leather seats & hard surfaces. It is great at disinfecting hard to reach places where liquid sprays cannot reach like the Air-conditioning system or deep into fabrics.
Depending upon area which needs treating, we have differing options to remove the bacteria which is causing the smell. In some cases we will use chemical and in other areas different options may be required.
Your vehicle headlining can trap odours like cigarette smoke which can be hard to remove, this treatment can remove stubborn smells & leaves no harmful by-products or residues in the vehicle. Fleas, Mites & Bed Bugs will be eliminated during the treatment.
The treatment used to remove the odour will kill microorganisms such as bacteria, fungi & viruses by attacking the cells/peptone. A 3 hour treatment period destroys viruses such as SARS and bacteria such as E-Coli. It kills 99.9% of viruses and bacteria in a single treatment.
Spillages can lead to a build up of bacteria which really thrive in the warmer months. So, How to remove odours from my car? by getting your vehicle valeted & treated with specialist chemicals will remove these unwanted smells.
Odour Removal Car Upholstery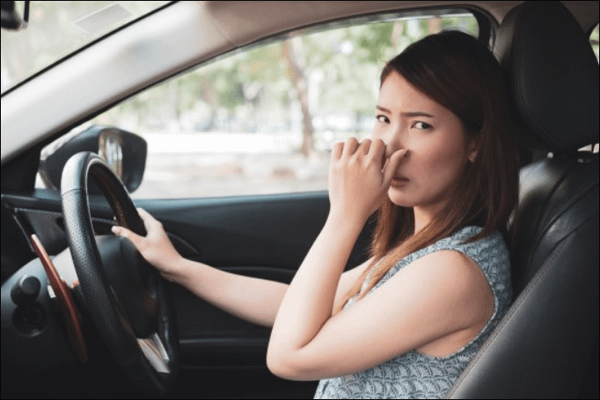 We can remove bad smells from vehicle interior
The treatment removes:
Pet Smells – Dog Odours
Cigarette Smoke
Milk Spillage Removal
Mould
Urine & other unwanted aromas
Faeces
Vomit
Body Odour
Flood Damage
Fire Damage
Damp Smells
Before the treatment can begin, the vehicle must be valeted & all items removed from the vehicle. For really heavily soiled vehicles the process may need to be split into two parts (the valet then the odour removal process) as  the vehicle needs to be fully dry prior to the treatment to obtain the best results.
This treatment can be added to any valet, so please ask for details.
For removal of all your mobile aromas. contact G & G Mobile Valeting on: 07825561598