Dog Hair
Pet & Dog Hair Removal
Dog Hairs can cause real problems in our vehicles.
Our pets are our favourite friends & we take them everywhere we go. Unfortunately unless your pet does not shed its hairs then your vehicle will need some sort of protection to keep the dog hair from becoming woven into the fabric.
Dog Hairs can soon build up in your car & before long become embedded into your carpets & seat fabric. Even if your furry friend does not go into the vehicle, the pet hairs can travel into your car via your clothing.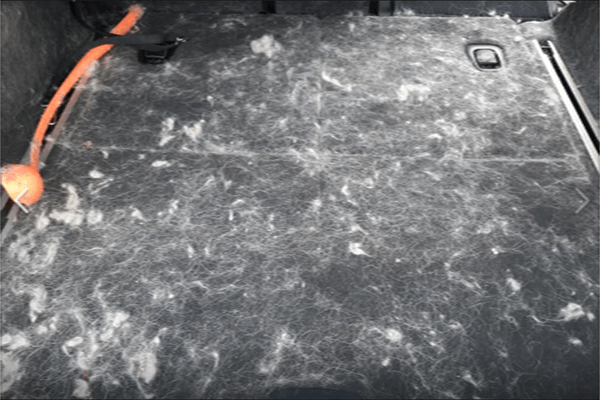 Once pet hairs build up in your vehicle, they can be a real problem to remove. Even a valeter who has years of experience will tell you the only way to remove the pet hairs is time and patience. The vehicle will need a good hoover & shampoo to remove the embedded hairs. Our services include interior shampoo of fabric seats & leather cleaning for our interior valeting option.
Once the dog hairs have started to build up they can start to smell. The odour from a wet dog & the pet hairs combined soon transfer into the fabric of seats & carpets, even your headlining on the roof  may need a good cleaning as the dog shakes itself to remove the moisture.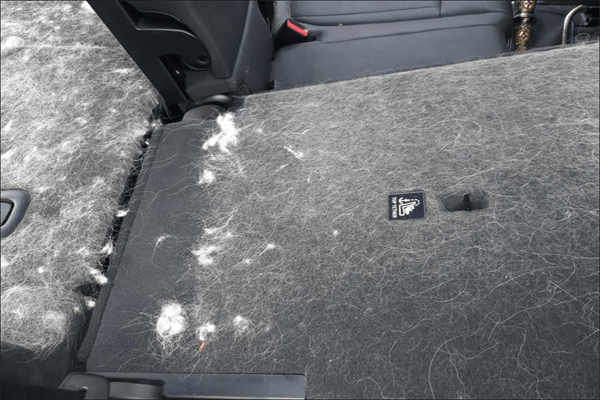 Even after a full shampoo of the carpets & seats, their still may be the odd embedded hair in the fabric somewhere, its nearly impossible to get every one.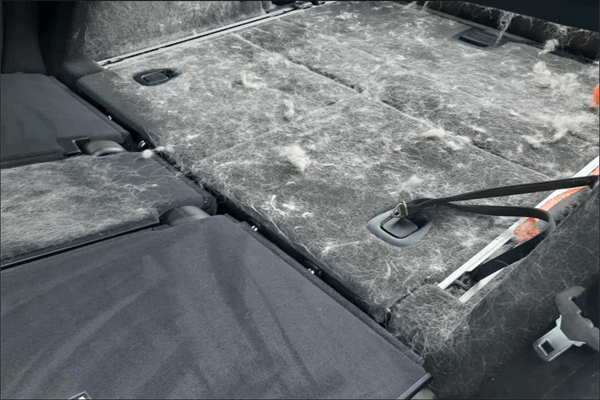 Dog Hair Removal
The images show just how built up the dog hairs were in the BMW, cars like BMW, Audi, Range Rover & Volvo use quality carpet in them, as such the pet hairs don't become as embedded in them as some of the other makes of vehicles. Cars like VW, & Renault Clio's have different quality carpets which can end up looking like a woolly jumper if the carpets are hoovered over & over again.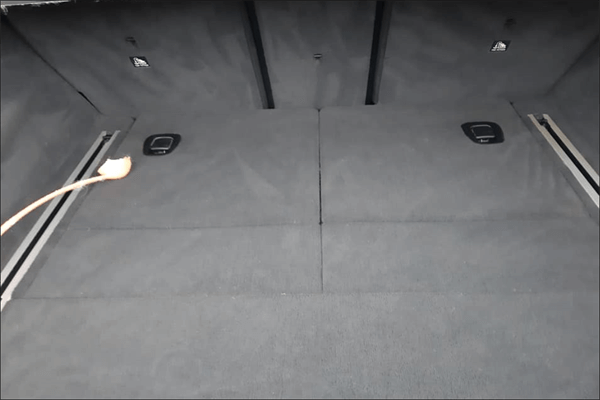 Pet Hairs Removed
The end result after a few hours labour are worth the effort, a normal interior valet takes up to three hours to complete, add in the dog hairs and the time frame can increase quite a bit if its heavily soiled with dog hairs, the seats can get heavily soiled from a dogs paws as can the vehicle as a whole if the dog shakes itself over the interior.
I can often get bitten by fleas if the dog hair build up is heavy, its all part of the job though. Its always best to keep on top of your vehicle with weekly or monthly valets to keep your vehicle in tip top condition. Always try and protect your vehicle if possible, you will get a better price for it in the end if you decide to sell it.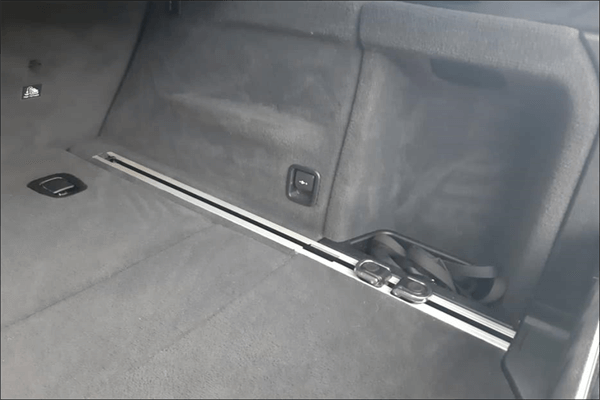 Mobile Car Valeting, Interior Car Cleaning, Dog Hair Removal
Accrington Car Cleaning, Specialist Car Valeting in Accrington East Lancashire, Mobile Car & Van Valets in Bury, Specialist Valeting in Bolton, Burnley Van Valets & Specialist Mobile Car Washing Near Me, Burnley Caravan Washing, Accrington Mobile Car Cleaning, Caravan Washing Hyndburn, Accrington Van Valeters
We Cover:
Rossendale, Hyndburn, Burnley, Accrington, Blackburn, Bury, Bacup, Whitworth, Ramsbottom, Helmshore, Rawtenstall, Haslingden, Reed, Whalley, Great Harwood, Oswaldtwistle, Brierfield, Padiham, Barnoldswick, Rawtenstall, Edenfield, Stacksteads, Haslingden, Baxenden and many other areas.
Contact Us
G & G Mobile, Specialist Valeting: 

07825561598