Interior Valeting Cars – Seat Cleaning
Mobile Interior Car Valeting
Our Interior valet includes seat cleaning & shampooing of your fabric & carpets. It will leave your car interior as good as the day you purchased the car, or even better in many cases.
We offer Fabric & Leather Cleaning, Carpet Shampooing to rejuvenate your soiled carpets & matts. Your vinyl & plastics are scrubbed to remove the dirt and grime.
Stain Removal – Seat Cleaning – Odour Removal
We can remove:
car seat stains
smells like cigarette smoke
odour removal from spillages like milk
accidents do happen in vehicles so urine & vomit can also be removed
plus many other interior cleaning issues like green mould
Green Mould
Green Mould on your interior is commonplace if your vehicle has been stood for a number of months or moisture has entered the vehicle.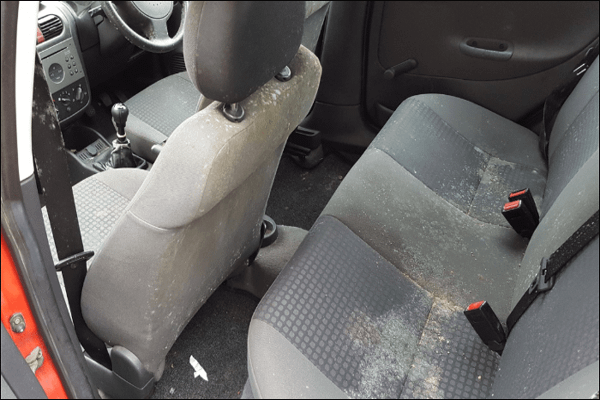 Green Mould is easy cleaned from vehicles, vehicles that let in moisture or have been stood without being run can very easily attract Green Mould and need interior valeting.
For more information on Mould Removal. 
Our Interior Valet is a very detailed valet where all carpets are hovered & shampooed, seats cleaned which includes your seat being hoovered & shampooed.
All door cards & dashboard are cleaned & scrubbed & all fabric on the door cards is shampooed.
The boot area is hoovered and shampooed and the spare tyre is removed (if you have one) and tyre space cleaned.
Your headlining is shampooed if required. All interior storage areas are opened and cleaned. Ashtrays & cigarette lighter areas are cleaned, phone charger connector(s) areas are removed & cleaned.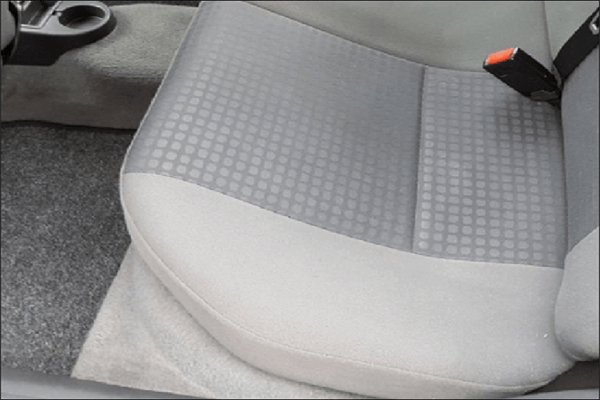 Mobile Car Interior Cleaning
Seats can be made up of different materials such as Fabric, Leather, Vinyl, Plastic or a range of different materials. Some leather seats are only leather on the areas we touch.
On these types of seats they require different cleaning techniques, the sides of the seat bolsters may be vinyl so you don't want to clean vinyl with a leather cleaning product.
By the same token you wouldn't want to apply a cleaning product to your leather seat that dries it out like baby wipes do. Some car seats have leather bolsters, vinyl sides and the main seating area is fabric. So using the correct seat cleaning product is key to getting great results.
Interior Carpets, Fabric & Leather Seat Cleans
Car seats can very easily get stained and can look unsightly, normally the stain you see is a water mark and can easily be removed. Spillages in the main are drinks such as tea & coffee or juice, milk or food & ink.
The mass majority of these spillages can be removed, the longer the stain is on a surface of the seat, the harder it will be to remove it.
Any dye transfer from jeans to leather needs to be removed as soon as possible.
The image below shows water staining on car seats so if you are looking for car seat cleaning near me then call G & G Mobile so we can get it cleaned for you.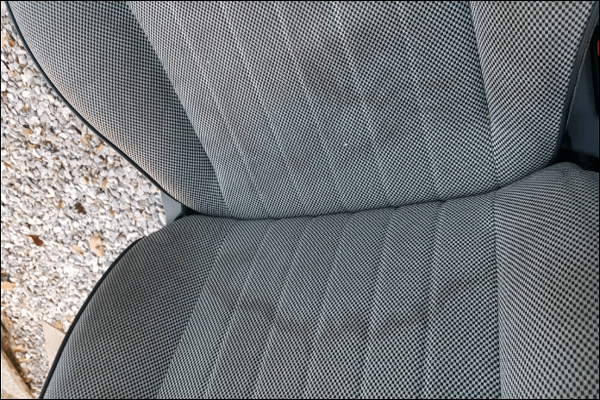 If not then you risk having to get a re colour of the damaged area.
All Leather seats will be completed with Autoglym products.
If you require deep Leather Cleaning and protection, then we can do this for you with specialist products. Please ask for details.
Please make sure your vehicle is empty when we arrive to valet your car interior. The full interior will be shampooed, so an empty vehicle dries much quicker.
If you are looking for a:
Valeter Near Me To Remove Car Seat Stains
Call G & G Mobile Valeting on 07825 561 598: We Come To You
Carpet Shampooing
Carpet Shampooing will be completed on all interior valeting & full valets, we can remove most things that are embedded into the carpets like dog hairs, chewing gum, paint or sand. If any amount of liquid is spilt on the carpet, you need to understand that under the foot wells carpet, their is around an inch of foam sound proofing. So if a lot of liquid has seeped through, we can not get to that area.
If you spill any amount of liquid on your foot wells, then its best to clean it up as best you can & as quick as you can to stop it from seeping through into the sound proofing.
Contact Us
G & G Mobile, Specialist Valeting: 
07825561598